Fast, fresh and unbelievably flavorful. What more could you want?
This is a tasty pasta dish without giving up on your healthy eating goals. This version puts the focus back on the vegetables while adding in chicken for an extra protein boost. If you want to skip the meet, feel free to swap it with more vegetables to make it a vegetarian or vegan dish. Fresh herbs and some shredded parmesan offer a bright finish to this nutrient-rich dish that will keep you full for hours.
INGREDIENTS
MAKES 5 SERVINGS
300g lentil pasta. I prefer to use penne or tagliatelle, choose the type of pasta you prefer. You can also use a different type of vegetable pasta or regular pasta.
2-3 chicken breasts, thinly sliced
4 stalks spring onion, thinly sliced
3 cloves garlic, minced
150 ml chicken stock
1 zucchini cut in the shape you want. I used a mandolin to make the zucchini into tagliatelle shape.
1 bunch asparagus, trimmed and cut into bite-size pieces
150 g peas, fresh or thawed if frozen
Salt and freshly ground pepper. Use the amount you desire
2 tablespoons extra-virgin olive oil, plus more for drizzling
2-4 tablespoons chopped fresh parsley and basil leaves
½ lemon
Parmesan cheese if desired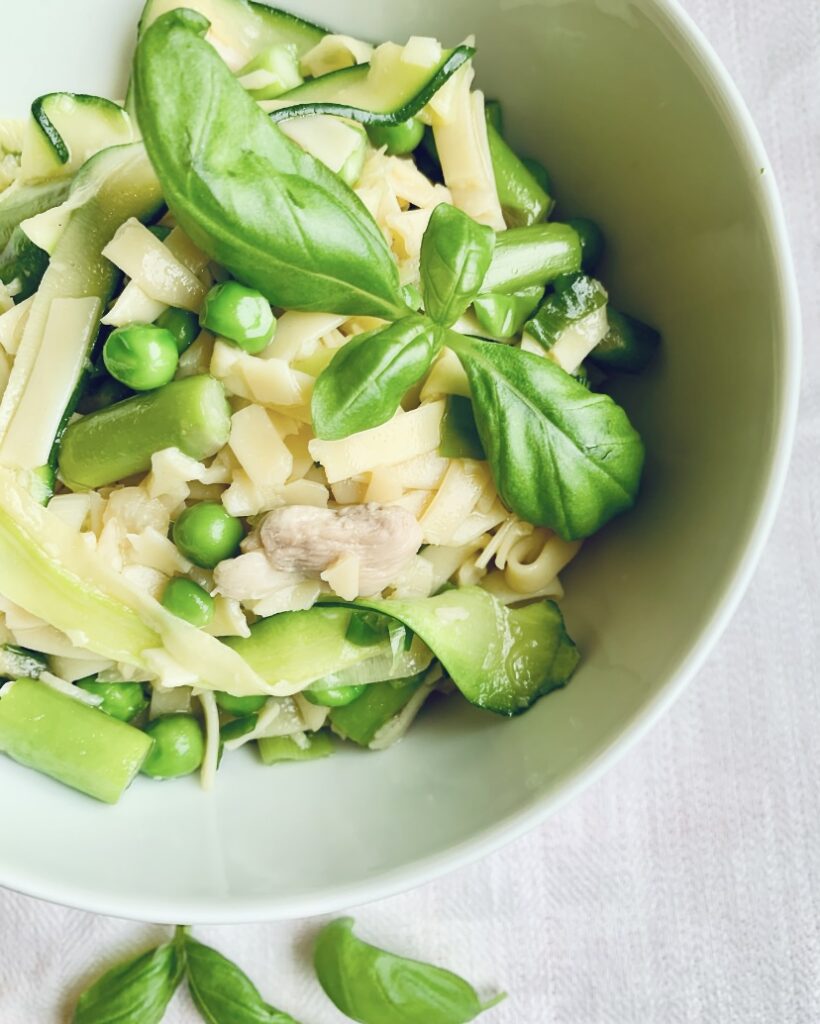 INSTRUCTIONS
1. Bring a large pot of salted water to a boil. Add the pasta type you want and cook until tender, according to package instructions. Drain the pasta, and set aside.
2. Season the chicken with salt and pepper. In a large skillet over medium-high heat, warm 1 tablespoon of the olive oil. Add the chicken and cook.
3. Add the spring onion and garlic, sauté until it begins to soften, about 3 minutes. Add the chicken stock and simmer to reduce the liquid slightly, 5 minutes.
4. Add the asparagus, zucchini, and peas and cook until bright green and tender-crisp, 3 minutes.
5. In a large bowl, combine the pasta with the warm vegetable mixture. And add half of the Parmesan and toss to combine.Season with salt and pepper to taste.
6. Garnish with the basil and parsley, sprinkle with the remaining Parmesan and some lemon juice and zest on top.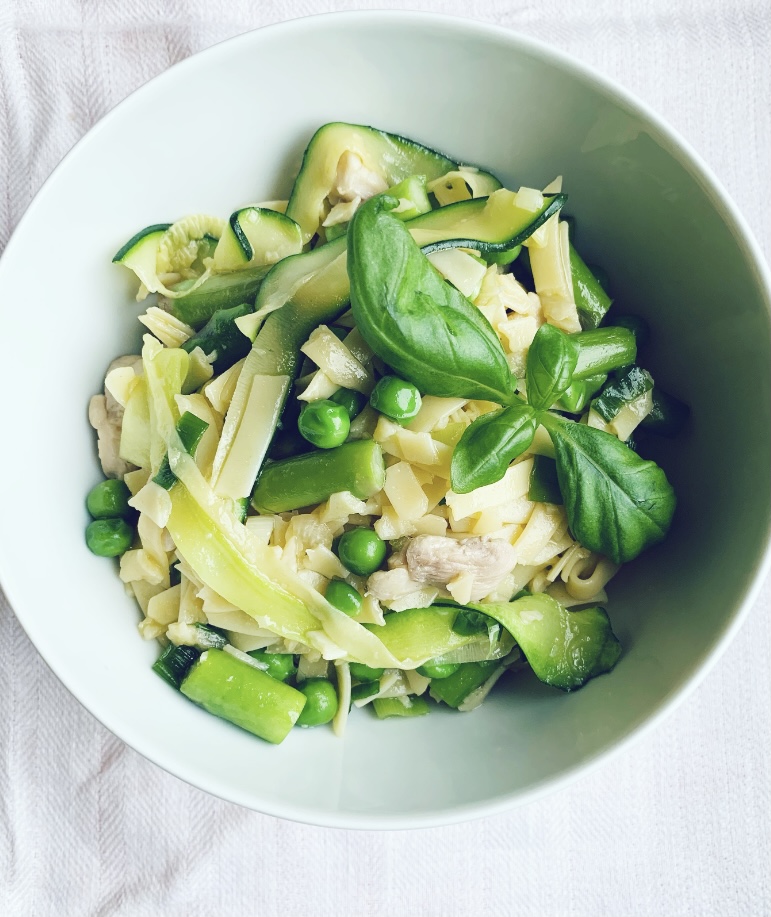 Do you want to loose weight and get yourself a nutrition program with PERSONAL GUIDANCE, RECIPES, GROCERY LISTS and WEEK MENUS? Get yourself Let`s Shine 8 weeks Nutrition program and make sure you get the results you want to achieve in 2021. Start today and get your results already after a week! Order now!