If you're looking for something new to jazz up your weekly routine, try this tasty Thai-inspired green curry with Norwegian salmon. Packed with veggies, fresh curry paste, and coconut milk, this rich curry is a great base for any protein. If salmon isn't your thing, feel free to swap it with cubes of tofu, chicken, or even more vegetables. By poaching the salmon in the curry instead of baking it, you end up with perfectly cooked fish that has taken on an added depth of flavor from the curry. This recipe makes four to six servings, which makes it perfect for a family dinner, or weekly meal prep!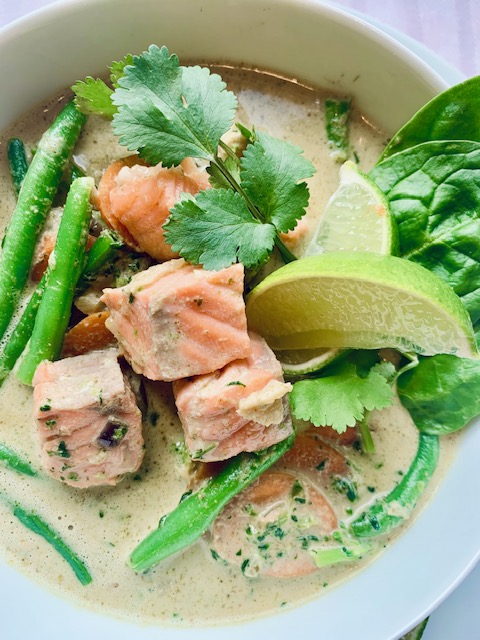 INGREDIENTS:
2 tablespoons extra-virgin oil
1 garlic clove, chopped
1 tablespoon chopped fresh ginger
3 tablespoons green curry paste (I use the green curry paste from Santa Maria, which you can get it in a regular grocery shop)
1 stalk of lemongrass (white part only)
1 can coconut milk
2 tablespoon sukrin
2 teaspoon soy sauce,
1-2 chopped bok choy
1/2 broccoli
100 g spinache
1-2 carrot sliced in rounds
60g green beans
1 1/2 cups water
500g fresh Norwegian salmon cut into pieces
1 lime sliced and some fresh coriander for garnish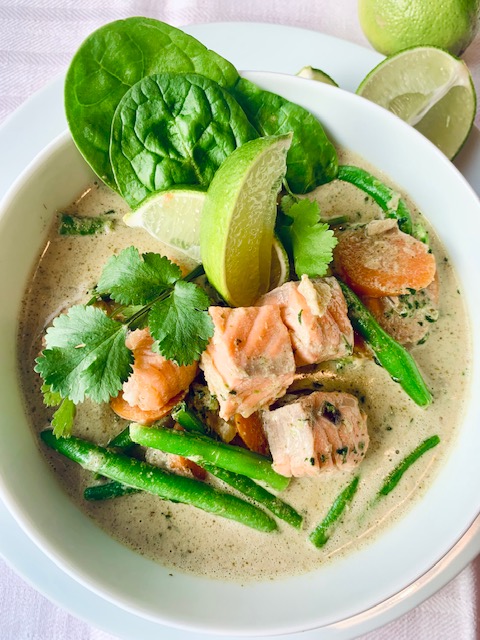 INSTRUCTIONS:
Add oil to a saucepan over medium heat. Saute shallots until translucent, add garlic, ginger, curry paste, and lemongrass. Cook for a couple of minutes, until fragrant.
Add coconut milk, sukrin, and soy sauce. Bring to a boil.
Lower heat and add in bok choy, carrots, broccoli and green beans. Add 1 1/2 cups of water and bring to a boil again.
Once carrots are tender, about ten minutes, reduce heat. Place salmon and spinach into the curry and cook for three to five minutes until cooked through and fork tender. Remove pan from heat.
Serve with cooked rice coriander and a slice of lime if desired.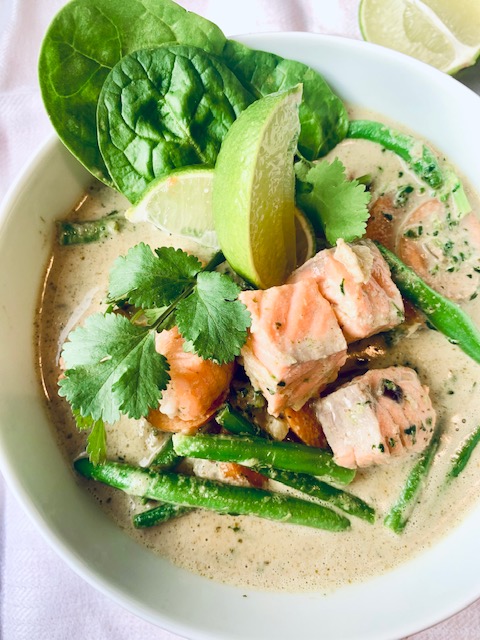 Do you want to loose weight and get yourself a nutrition program with PERSONAL GUIDANCE, RECIPES, GROCERY LISTS and WEEK MENUS? Get yourself Let`s Shine 8 weeks Nutrition program and make sure you get the results you want to achieve in 2021. Start today and get your results already after a week! Order now!