This tea is a great tea to start your day, either you want to loose weight, reduce inflammation, want to boost your body and brain or all the above reasons.
The Sun tea is made of Turmeric that is used to reduce inflammation in your body. Turmeric contains of curcumin, a potent plant chemical with antioxidant and anti-inflammatory properties. Many suggested benefits of turmeric are supported by evidence from randomized controlled trials — the gold standard of research. Research indicates that turmeric doses of 500- 2000mg per day may be effective. However, hig doses are not recommended longterm. With piperine in peppercorn it increases the absorption of the nutrients from the turmeric.
The Sun tea as a breakfast is a simple way to boost your body and it contains MCT to boost your brain in addition to Collagen protein and other ingredients that kick start your fat burning and your day! Try it out.
RECIPE:
1- 2,5 tb spoon of Turmeric either powder or paste from Turmeric plant/herb.
1/2-1 tb spoon of MCT oil
1/2- 1 tb spoon crushed pepper corns
1-2 tb spoon of olive oil or coconut oil.
If you want to you can also add these additional ingredients:
1 tb of Collagen protein
1/2 tb spoon of cayenne pepper
1 tb of broit
1 cm of ginger
2 dl of coconut milk
D-vitamin drops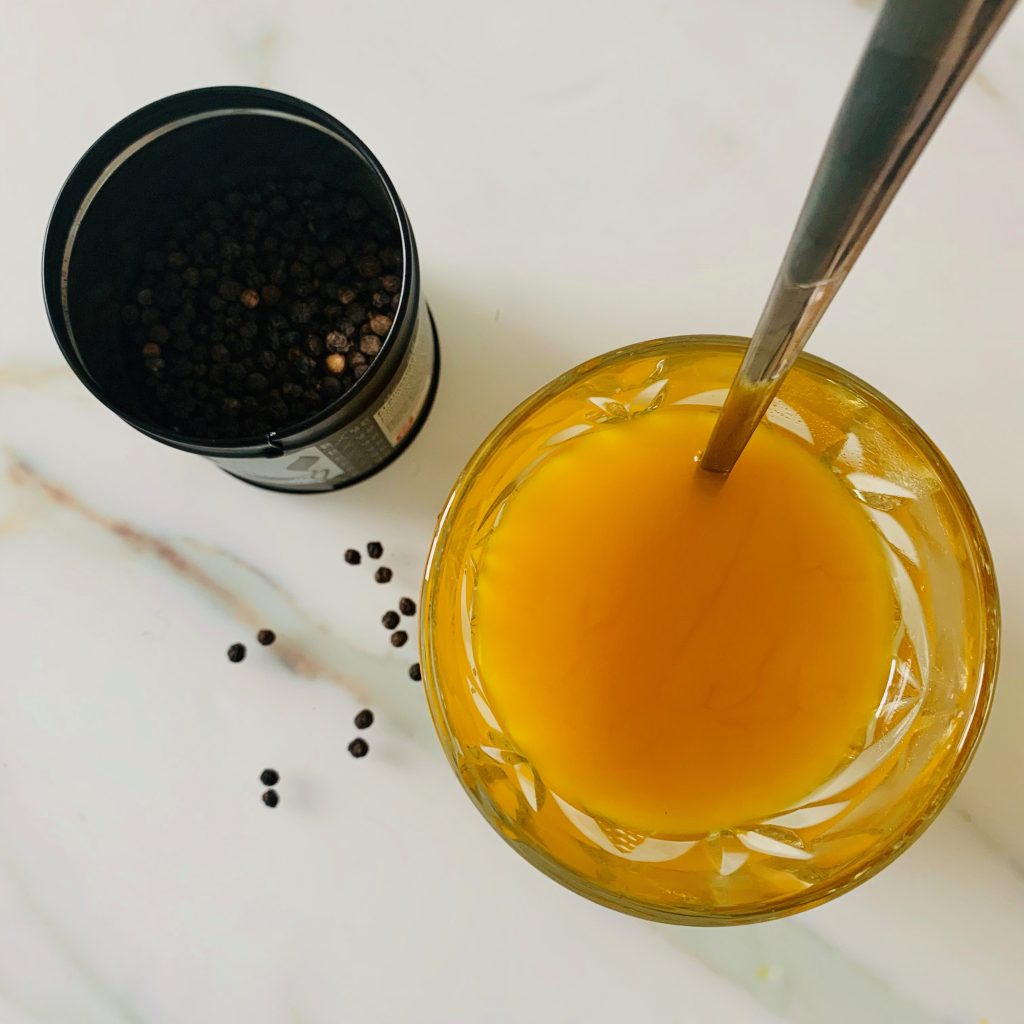 Do this:
1: Boil up hot water and pour it in a cup with the turmeric in. Stirr a little. Alternatively you can boil the water together with the turmeric to just above 100degree a couple of minutes. This is suppose to increase curcumins bioavailability.

2: Add the other ingredients and keep stirring. You can use a hand mixer if you want to.

3: To optimal the health benefits from the turmeric wait a total of 10-15min before drinking it. Put a cover over the tea to keep it hot.
PS: Turmeric supplements are unsafe if you are pregnant, breastfeeding or have certain conditions. Supplements can also interact with blood thinners and diabetes medications. However, turmeric seems to be safe when used as a spice in food.